Breaking open the black box of IT.
Genuity helps businesses and IT teams operate with full confidence, knowing that they've got the technology they need at the best prices available.
Get Started
Technology is a critical investment, but are you paying a fair price?
We're building tools that help entrepreneurs and IT leaders navigate the market, optimize their technology spend, and improve their bottom line.

Genuity IT Admin Suite
Best practices, best prices.
A complete IT management platform designed to give businesses a clear picture of their business technology and help you identify IT overspending and savings opportunities.

Genuity IT Marketplace
Save big, together.
We're bringing thousands of businesses together to access enterprise exclusive deals. By combining our buying power, we can negotiate new services, more options at lower prices for everyone.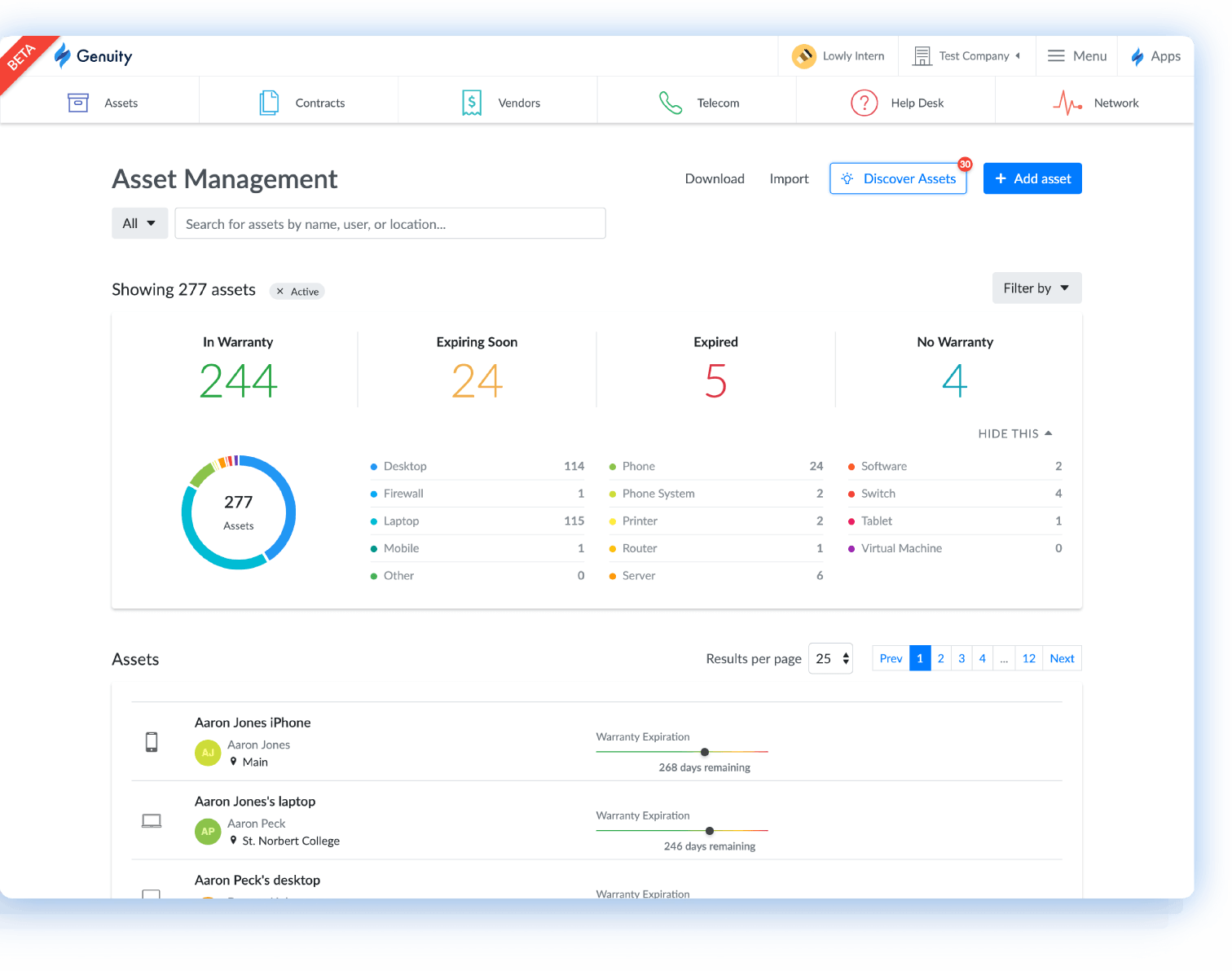 Management Platform
Stay on top of IT.
We've built a complete IT management platform that helps you identify and tackle the issues in your IT infrastructure that impacts your bottom line.
Contract Management
Vendor Expense Management
Telecom Expense Management
Asset Management
IT Helpdesk Ticketing
Network Monitoring
Created with best practices in mind, and market intelligence built in—the platform was designed to deliver actionable insights with complete visibility of your system.
Explore the Genuity IT Admin Suite
Members Marketplace
Tools to help you get the right tech at the best price.
We're bringing businesses and IT professionals together to combine our buying power to access better deals and unlock new services for everyone.
Collective buying power
Prices individuals can't get alone
Guaranteed savings
Explore the Genuity IT Marketplace
We believe in the power of transparency, clarity, and community to help businesses everywhere get fairer pricing and better IT.
Cut the Fat
We were frustrated with the middle men, VARs, and other "experts" that led people to make choices that lined their pockets—instead of helping people get the IT that best aligned with their goals.
Useful Information
It's your company and your IT, we're giving you the tools to help you manage and track that technology, and find savings in those insights.
Smarter Buying
Be confident that you're getting the best prices available with exclusive deals unlocked by the collective.
$29.99
Flat Rate—per organization, per month.
Unlimited users for the Genuity IT Admin Suite and Genuity Marketplace.
Saving on IT should be accessible to businesses of all sizes.
Start Free Trial!
Stay on top of IT with Genuity.
Get started today.